PENGARUH INDEKS MASSA TUBUH TERHADAP INDEKS LENGKUNG TELAPAK KAKI MAHASISWA DAN MAHASISWI FK UISU
Annisha Ramadany

Universitas Islam Sumatera Utara

Saadatur Rizqillah Pasaribu

Universitas Islam Sumatera Utara
Keywords:
Usia, Indeks Massa Tubuh, Indeks Lengkung Tapak Kaki
Abstract
 Body mass index (BMI) describes body composition, where body composition is related to nutritional status. BMI values ​​are categorized into underweight, normal, overweight and obese. Overweight and obesity for a long time can cause deformities in the feet, one of which is flat feet. To determine the effect of body mass index on the arch index of the soles of the feet in Uisu students and students. This study is an analytic study, cross sectional design
It shows that the number of respondents based on age is known from 76 respondents, it was found that 46 (60.5%) respondents were 20 years old with 35 (46.1%) male respondents who had a Body Mass Index (BMI) of respondents by category normal weigh of 34 people (44.7%), as well as the arch index of the foot obtained 43 (56.6%) of respondents with low arch (flat), and the results of statistical tests with a correlation value (r) are positive and positive of 0.4527 which means that there is a moderate correlation and p value (0.000) <0.05 indicates that there is a significant correlation between body mass index and foot arch index in FK UISU students.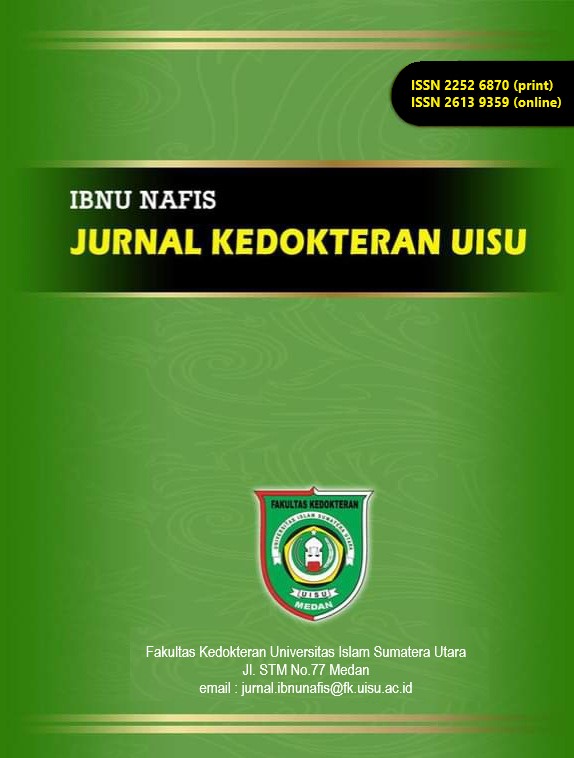 Section
Artikel Penelitian